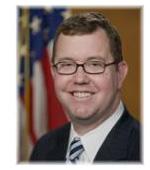 Stuart F. Delery was appointed the Acting Associate Attorney General of the United States on September 17, 2014.

As the Acting Associate Attorney General, Mr. Delery's primary responsibility is to advise and assist the Attorney General and the Deputy Attorney General in formulating and implementing Departmental policies and programs related to a broad range of issues, including civil litigation, federal and local law enforcement, and public safety. Mr. Delery, the third-ranking official at the agency, oversees the Department's civil litigating components, grant-making components, the Office of Tribal Justice, the Executive Office for U.S. Trustees, the Office of Information Policy, the Foreign Claims Settlement Commission, and the Access to Justice Initiative. Mr. Delery also serves as the Vice Chair of the Steering Committee of the President's Financial Fraud Enforcement Task Force and the federal government's Chief FOIA Officer.

From March 2012 to September 2014. Mr. Delery led the Civil Division, which is the largest litigating division in the Department of Justice. He was confirmed by the United States Senate as the Assistant Attorney General for the Civil Division on August 1, 2013. As the head of the Civil Division, Mr. Delery focused on cases involving national security, health and safety, and financial fraud. He co-chaired several working groups of the Financial Fraud Enforcement Task Force. In addition, at the Attorney General's direction, Mr. Delery led the team of Department lawyers coordinating the government-wide implementation of the Supreme Court's decision in United States v. Windsor, which struck down Section 3 of the Defense of Marriage Act (DOMA).

Mr. Delery joined the United States Department of Justice in January 2009 as Chief of Staff and Counselor to the Deputy Attorney General, and later served as Associate Deputy Attorney General. From August 2010 until March 2012, Mr. Delery served as Senior Counselor to the Attorney General. Before joining the Department of Justice, Mr. Delery was a partner in the Washington D.C. office of the law firm WilmerHale, where he was a member of the Litigation Department and the Appellate and Supreme Court Litigation Practice Group, and a Vice Chair of the firm's Securities Department. His practice focused on matters involving securities and other financial frauds, internal corporate investigations, and complex litigation in trial courts and on appeal presenting novel questions of constitutional and federal law.

Mr. Delery graduated from Yale Law School and the University of Virginia. He clerked for Justices Sandra Day O'Connor and Byron R. White of the U.S. Supreme Court, and for Chief Judge Gerald B. Tjoflat of the U.S. Court of Appeals for the Eleventh Circuit.
 
Date Created: July 10, 2020