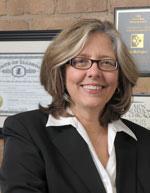 Pamela F. Rodriguez is president of TASC, Inc. of Illinois, a statewide, nonprofit agency that provides independent case management for people with substance use and mental health conditions. TASC serves approximately 20,000 adults and youth each year who are referred by Illinois courts, corrections, and child welfare systems. Ms. Rodriguez has co-authored several journal articles on health care and addiction recovery in criminal justice and juvenile justice systems.

In national policy leadership, Ms. Rodriguez was appointed in 2007 to serve as a practitioner member of the Coordinating Council on Juvenile Justice and Delinquency Prevention, an independent organization in the U.S. executive branch that coordinates all federal juvenile delinquency prevention and detention programs. She serves as Texas Christian University's criminal justice partner on the national Criminal Justice-Drug Abuse Treatment Studies (CJ-DATS) Steering Committee.

In Illinois, Ms. Rodriguez is active on numerous boards and task forces focused on increasing alternatives to incarceration, improving juvenile justice, and decreasing the disproportionate incarceration of people of color. Among these are Redeploy Illinois, which supports local efforts to offer community-based alternatives to incarceration for juvenile offenders; the Illinois Risk, Assets and Needs Assessment (RANA) Task Force, of which she is chair of the advisory group; and the Illinois Juvenile Justice Commission, of which she is co-chair of the Disproportionate Minority Contact Committee.

Ms. Rodriguez earned her master's degree in Social Service Administration from the University of Chicago.
Date Created: June 24, 2020